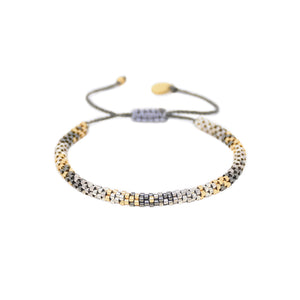 As part of Mishky's new collection this Hoopys Bracelet is designed in gold, silver and darker grey beads and features: 

Japanese beaded bracelet/tube shape design 
Adjustable thread ties 
Handmade in Columbia 
My Mom For Me - Mishky trains & employs women from low income communities. The Mom For Me program encourages women to work from home in order to provide love, care and parental guidance to their children while having a sustain
Approx width: 0.5cm

Obsessing over this new colour combo, perfect for adding a touch of detail to any outfit. Layer your stack up to bring your Mishky stack to life.