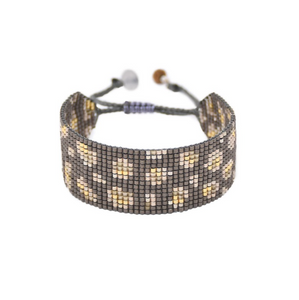 We love getting a little leopard into our outfit and we are loving the new Mishky Panthera beaded bracelet. In soft cream and gold tones this features: 

Handmade beaded bracelets made from polyester thread
Leopard inspired print design with gold plated logo charm
Drawstring tie to fasten and tighten
My Mom For Me - Mishky trains & employs women from low income communities. The Mom For Me program encourages women to work from home in order to provide love, care and parental guidance to their children while having a sustain

A great way to add a pop of detail to any outfit whether it's more dressed down or dressed up. Layer up your Mishky bracelets for that ultimate boho vibe.